2011-2012 News & Events Archive
News & Events Archives
2016-2017 Events
2015-2016 Events
2014-2015 Events 
2013-2014 News & Events
2012-2013 News & Events
2010-2011 News & Events
New addition in the MRC

The ARCH Department has added a fifth plotter to assist CAED students with all of their printing requests. Currently the MRC offers the following printing capabilities:
2 Canon IPF 755 36" plotters
1 Canon IPF 765 36" plotter NEW
2 Canon IPF 815 44" plotter
1 Vidar SD 4430 44" scanner
Posted: 07.20.12
StoryCorps comes to Cal Poly
StoryCorps is a national nonprofit oral history organization whose mission is to provide Americans of all backgrounds and beliefs with the opportunity to record, share, and preserve the stories of our lives. Cal Poly was fortunate to have the following ARCH alumni and friends of the CAED accept to be interviewed:
Paul Neel (Dean Emeritus) and Cal Poly ARCH Professor Thomas Fowler
Fred Senna (B.Arch 1974) and spouse Jane Sweeney
Wally Gordon (B.Arch 1979) and friend Greg Coghill
Scott Gaudineer (B.Arch 1979) and spouse Leslie Gaudineer
Posted: 07.19.12
Cal Poly's Accreditation Extended 10 Years - the Maximum Allowed
From Cal Poly's Press Release:
Citing Cal Poly's improved graduation rates and praising the faculty and staff's focus on students despite major reductions in state funding, the Western Association of Schools and Colleges (WASC) has reaffirmed Cal Poly's accreditation for the next 10 years, the maximum allowed. In notifying the university of the 10-year extension, the accrediting association commended Cal Poly "for making significant progress in numerous areas" even as the university experienced "major turnover in the top leadership positions." "WASC's reaccreditation decision reaffirms Cal Poly's reputation for excellence and acknowledges the extraordinary value of our Learn by Doing approach," said Cal Poly President Jeffrey D. Armstrong. "This decision recognizes the commitment and excellence of our students, faculty and staff, and reassures our alumni that the value of their Cal Poly degree will continue to appreciate over time."
Posted: 07.19.12
Architecture students win 2011-12 ACSA/AISC Steel Design Student Competition
Out of 303 entries, David Heck, B.Arch 2012, one of Prof. Jonathan Reich's thesis students, won first place in the international 2011-2012 ACSA/AISC Steel Design Student Competition – Culinary Arts College for his 2011-12 thesis project Paris Market Lab: The addition of a culinary arts school and urban garden to the Marché St. Germain in Paris.
Additionally, Jose Sanchez and Adam Strauss, won Honorable Mention in the same competition, for their joint project Culinary_Bridge, completed in Prof. Tom Fowler's Winter/Spring 2012 comprehensive third year design studio.
Posted: 07.13.12
Cal Poly's Parent and Family Weekend
As part of Cal Poly's Parent and Family Weekend, the Architecture Department is organizing a series of events on Friday, October, 12, 2012. An exhibition/reception will take place on Friday in the Berg Gallery between 5-7pm showcasing freshmens' design work along other year's students' work. The Evelyn and Harold hay Media Research Center (MRC) and the CAED workshop will be open for tours.
Posted: 07.13.12
Poly Days: Alumni Weekend
Come back for the first-ever Poly Days Alumni Weekend July 19-22, 2012. Connect with classmates you know, meet new ones, take a class (no quiz!) and enjoy San Luis Obispo. The Architecture Department is organizing a drawing workshop with Professor Emeritus James Bagnall.
Posted: 06.21.12
Hugo Martinez, Cal Poly '06 alum

wins major competition: project Sound Booth Competition
Posted: 06.21.12
Serial boxes exhibition at 3A Gallery in San Francisco
Posted: 06.21.12
Pre-Graduation social in the Berg Gallery
Please visit this year's pre-graduation social at: Graduate Social 2012. It was a great good-bye party and good luck to all of our graduates.
Posted: 06.20.12
Gensler's LA new lobby desk designed by Cal Poly students
Cal Poly students Ben Hait Cambell, Cory Walker, and Kegan Charles Flanderka collaborated to design an innnovative lobby desk for Gensler's headquarters in LA.
To view a documented story of collaboration between architects, students, engineers, and fabricators that together develop an innovative new look at table design, go to SLO_Gen.
To view the "real" artifact, visit Gensler Los Angeles at 500 South Figueroa Street, Los Angeles, CA 90071.
For additional information, please contact:
Dr. Mark Cabrinha, Cal Poly Professor
Posted: 06.20.12
Alumni Weekend: July 19-22, 2012
Come back for Poly Days Alumni Weekend. Connect with classmates you know, meet new ones, take a class (without a quiz!), bring the whole family, enjoy your favorite campus spots and discover new ones, too!
Two new ARCH publications (2012)
ADD: Architecture + Design + Discourse XII is the fifth annual student run publication of the Architecture Department of Cal Poly, San Luis Obispo, CA. It documents student and faculty work.
This publication is part of the Architectural Environmental Design Press (AeDPress), and will be available at this year's Chumash Show, Friday, May 25, 2012 for a nominal price of $10.00. Off-campus individuals may request a copy for $15.00 (inclusive of shipping and handling) at architecture@calpoly.edu. 
Compilation of Cal Poly Architecture students thesis topics conducted during the AY 2010-2011. Each student presented their thesis at the Chumash Auditorium, Friday, May 25, 2012.
"This work is a small sample of the particularly challenging last year of a five-year education which differs from its previous four. The principle differences between 5th year design and the earlier design studios here at Cal Poly are that students select their own projects..."
The publication is part of the Architectural Environmental Design Press (AeDPress) and can be purchased at the Architecture Department: architecture@calpoly.edu. Introduction by Prof. Jonathan Reich
For additional information about AEDPress and other faculty publications, please go to Architecture Department Publications.
Posted: 06.13.12
CAED announces new Dean: Christine Theodoropoulous
CAED Announces New Dean. The College of Architecture and Environmental Design is pleased to announce its new dean, Christine Theodoropoulos! Dean Theodoropoulos comes to Cal Poly from the University of Oregon, Eugene, where she has served as Head of the Architecture Department since 2003.
Theodoropoulos received her education from Princeton and Yale universities in civil engineering and architecture respectively. She is a licensed architect and registered civil engineer in the state of California. Dean Theodoropoulos will begin her tenure as dean of the College of Architecture and Environmental design in September. Please join us in welcoming her to the college and to Cal Poly. 
Posted: 06.12.12
Cal Poly multidisciplinary team wins Bank of America Housing Challenge
For a second year in a row a Cal Poly San Luis Obispo team has won the Bank of American Housing Challenge, tieing with UC Berkeley for first place. Cal Poly fielded two teams this year. The winning team was a multidisciplinary team involving students from Architecture, Business, City and Regional Planning, Construction Management and Landscape Architecture - two graduate and 15 undergraduate students; and a team . The team proposed ALERE a project in Inglewood, CA, partnering with Path Ventures, a non-profit active in the Los Angeles Area.Go to Alere to see more about their project. The other team to compete from Cal Poly was also a multi-disciplinary team which proposed Sakura, a project in San Jose, CA, partnering with ROEM Corporation.
Posted: 06.07.12
Faculty Merit Award
Mark Cabrinha was chosen as the Architecture Faculty Merit Award winner for the 2011-12 academic year. He was honored at the End of Year Celebration and Picnic on Wednesday, June 6. Mark was presented with a Vern Swanson painting and his name will also appear on the Faculty Merit Award plaque in the Architecture office.
Posted: 05.24.12
Professors Carmen Trudell and Jeff Ponitz receive PDCI Grants
Congratulations go to Professor Jeff Ponitz and Professor Carmen Trudell. The PDCI Executive Committee, its Interim Director and the CAED Dean have unanimously agreed to fully fund their 2012 Seed Grant Proposals.
Professor Ponitz' research will focus on performative celing systems as a means for positively impacting environmental comfort in working and learning spaces.
Professor Trudell's research focuses on passive air filtration systems and will include an multidisciplinary team of Cal Poly students carrying forward this research.
Posted: 05.17.12
Fifth Year Graduating Social: Saturday, June 9th, 2012

The Architecture Department is hosting a graduation social to recognize our talented fifth year students. We invite graduating students and their family to a pre-graduation celebration on:
When: Reception, Saturday, June 9th 2012 between 5:00pm-6:30pm.
Location: CAED Berg Gallery, Bldg 05-105
Posted: 05.17.12
Alumni Social in Pasadena
Please come and join colleagues of your alma mater at Architecture for Education Incorporated. This event is co-sponsored by Gaylaird Christopher, architect and principal of A4E, and by the Architecture and City and Regional Planning Departments. Guests will enjoy tours of Gaylaird's office which is Greene & Greene's first residential project in Pasadena. Built in 1903 it is the "original Craftsman" showcasing the beginnings of their architectural style.
Thursday, May 3, 2012, between 5:00 -7:30pm
Location: 65 N Catalina Ave, Pasadena, CA. Phone: (626) 356-4080.
RSVP: Architecture Department architecture@calpoly.edu, or 805 756-1316
Posted: 04.26.12
Four architecture students win awards in the 1st Annual International Education and Programs Study Abroad (IEP) Photography Competition
Scott Leinweber -Best of Show: Pisa-to-Florence, Italy; Laura Kramer -Best Culture: Budapest, Hungary; Brian Ng -Best Portraiture: Berlin, Germany; and Michael Zhang -Honorable Mention Landscape: Copenhagen, Denmark win awards in the 1st Annual International Education and Programs Study Abroad (IEP) Photography Competition.
Posted: 04.26.12
Student wins award from the AIAS
Joanne Lin, won an Honorable Mention for the AIAS/SAGE student design competition for her Winter quarter (2012) project which was conducted under the mentorship of Professor Margarida Yin.
Posted: 04.25.12
Portfolio Workshop
Join Bryan Ridley, Cal Poly Architecture graduate, former lecturer, and local practitioner for a free five night workshop over two weeks in February.
Dates: April 15, 17, 19, 24, and 26, 2012.
Where: Building 05-201
Time: 7-10pm
Develop your portfolio, resumé, and several other strategies for entering the realm of architectural practice.
Posted: 04.13.12
Architecture Department Mourns the Loss of Professor Art Chapman
Professor Arthur J. Chapman, 65, architect, teacher and scholar, died Monday, April 9, 2012, in San Luis Obispo. The Architecture Department has lost one of its most generous colleagues and mentors who has inspired generation of students, alumni, and faculty.
Viewing: Friday, April 13 3-5 PM
Reis Family Mortuary
991 Nipomo Street, San Luis Obispo
Funeral Mass: Saturday, April 14 @ 11:00AM
Reception following
Nativity of Our Lady Catholic Church
221 Daly Avenue, San Luis Obispo
Internment will take place after the Funeral Mass
Old Mission Catholic Cemetery
101 Bridge Street, San Luis Obispo
In lieu of flowers, the family encourages donations in Art's memory
to the Cal Poly Newman Center (543-4105) or the charity of
your choice.
Posted: 04.06.12
Cal Poly Open House Event
Open House is an annual Cal Poly event that showcases the campus to admitted and current students, their supporters, alumni, and the San Luis Obispo community. The three-day event is the culmination of an entire year of hard work and dedication by a committee of student volunteers working under Student Life & Leadership's Orientation Programs, in collaboration with the community, student clubs, faculty, and staff.
We welcome admitted and prospective students, and their parents, and look forward meeting you during the numerous events surrounding Open House.
Posted: 03.23.12
Meet the Firms Event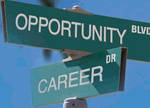 Cal Poly's Career Services is organizing for the ARCH, CRP and LA students a Meet the Firms event that is scheduled for this Wednesday, March 28 from 5:30 to 7:00 pm in the PAC lobby (Bldg. 6). This is a unique opportunity and whoever wishes to attend needs to bring their resumes and be ready to meet with potential employers.

Posted: 03.12.12
Freshmen installation featured in the San Luis Obispo Tribune
Photo by David Middlecamp. ARCH studentNicole O'Hearne and two other partners created this series of sliding panels as part of a freshman architecture project.
Designs by Cal Poly freshmen dangle, nest and sway
Their task: Make projects that enhance existing buildings without doing any damage.
"Gigantic, tilting lanterns in the shape of building columns and wooden benches suspended from 30-foot-long ropes were among the 57 projects recently presented by Cal Poly architecture students. The assignment tasked students with devising and building the structures as part of the university's beginning design class for freshmen." Excerpt from article.
Posted: 03.12.12
Renovating Historic Hallidie
The Hallidie Building, named after Andrew Hallidie, inventor of the modern day cable car system in San Francisco and designed in 1918 by Willis Polk, is being renovated. Alumna Annie Lo (B.Arch, '05), the architect of record with McGinnis Chen Associates is working with Bruce Albert (ARCH, '77), principal at The Albert Group and manager on the project. Both Lo and Albert find the Hallidie building particularly interesting. It was a progressive structure for its time; the first glass wall building in the nation.
Posted: 03.08.12
Third Year Super Review: Friday, March 9, 2012
"The "Best of Show" super review was launched in Winter 2007 with the purpose to expand and assess select third year students' projects through the discussion of third year faculty and guest jurors of national and international stature. The review system in any architecture program is not new for us, but given the shear number of students and the lack of space on campus –just for third year we would need a space large enough to accommodate almost 140 students -the organization of a review of this magnitude remains an interesting challenge..."
Guest Jurors:
Tim Culvahouse, FAIA, editor arcCA
Gloria Lee and Nathan Swift, principals of Swift Lee Office (SLO)
Rachel Glabe and Greg Taylor, Cal Poly alumni
This year's Third Year Super Review is generously co-sponsored by the Craig R. Smith, AIA and principal of CRSA Architecture.
Posted: 03.05.12
IDP Rules Change for Internship Hours
Interns can now earn up to 930 IDP hours through academic internships beginning on April 5, 2012. Hours count toward core credit and can be applied to any experience area except leadership and service under experience settings A and O. This opportunity recognizes the valuable experience interns can earn while still in school.
Posted: 02.24.12
"Hanging Beach" Receives 2012 Special Design Award
Prof. Jonathan Reich's "Studio Consilio - Cal Poly San Luis Obispo Architecture Department" Hanging Bench received a 2012 Special Design Award in the American Wood Products Council's Woodworks For Non-Residential Construction design award program.
Students: Cécile Bleux, Jessie Blote, Anna Bultema, Milena Charlemagne, Bryan Colosky, Kristen Fowler, Oscar Gutierrez, Julio Hernandez, Nhu Hoang, Avery Kant, Carlos Regis, Michael Shadle, Tyler Stark, Shanna Sullivan, Garrett Sweeden, Ian Tomitch, Megan Walker, Angelika Weissheim, and Alex Zimmerman
Professor: Jonathan Reich, Architect
The Design award will be presented at the Wood Solutions Fair, at the Long Beach Convention Center on Wednesday, February 29, 2012.
Posted: 02.21.12
CM and IFMA are sponsoring a CAED event on Friday, February 24, 2012.
When: Friday, February 24, 2012
Where: B202
Time: noon through 1:30pm
FREE LUNCH will be provided!
Seating & food will be limited to the first 50 people for this event. Please RSVP to Jes Frazier at jfrazier@calpoly.edu. 
Posted: 02.17.12
ARCH students fundraise for NYC field trip
Professor Thomas Fowler, is a special two-quarter comprehensive building design studio. We are designing a culinary college in Manhattan, New York which will be connected to the very popular elevated park called the Highline. We have a unique opportunity to travel to New York City the end of February 2012 to visit the actual project site, meet with a number of world-famous architecture firms, visit a range of significant buildings and meet with successful alumni of the Cal Poly architecture program. We will be using all the information collected from our field trip experience to develop our culinary college projects further during the spring quarter.
We are currently looking for financial support to offset the expenses for our field trip. A fundraiser is set for February 22 at California Pizza Kitchen, in downtown San Luis Obispo. Please come out and enjoy a meal (bring attached flyer) to help us make this opportunity a reality. Beyond the fundraiser anything you can contribute would be appreciated."
Class of ARCH 352: Kristin Akin-Zimmerman, Kimberly Castillo, Blair Ekleberry, Nicolo Gemigniani, Caroline Loehner, Cody Stokes, Bao Pham, Stephany Phugn, Katherine Quach, Scott Romaine, Tim Ross, Zahra Safaverdi, Jose Sanchez, Rohan Shah, Brittany Sicat, Adam Strauss, and Phillip Sweeney.
Posted: 02.17.12
Former Director Gil Cooke Becomes AIA Fellow
Gilbert (Gil) D. Cooke, receives prestigious award of the AIA and becomes a Fellow of the American Institute of Architects (FAIA) in the category of education. The 2012 Jury of Fellows from the American Institute of Architects (AIA) elevated 105 AIA members to its prestigious College of Fellows. Out of a total AIA membership of over 80,000 there are over 3,000 members distinguished with this honor. Gil served the Architecture Department as Director from Fall 1995 through Fall 2003. Subsequently he moved to San Diego to hold the position of Dean at the NewSchool of Architecture & Design.
Posted: 02.01.12
Colloquium on Diversity
Cal Poly, San Luis Obispo is using the Association of American Colleges & Universities' "Making Excellence Inclusive" initiative to address the issue of diversity of all types in the Cal Poly and local community. A colloquium will address the virtues of living and learning in a diverse society.
When: Monday, February 6, 2012
Where: Christopher Cohan Performing Arts Center at Cal Poly
Colloquium: 5:00pm -7:30pm
Reception: 7:30pm
Posted: 01.27.12
Professor Tom di Santo Elected President of Local AIA
Tom di Santo (B.Arch 1989), principal of M:OME, was recently elected to the board of the AIA, and will serve as president-elect for the local chapter AIA Central Coast Chapter(AIA CCC). Tom will also serve as the Vice President in the meantime, and his responsibilities include representing the local chapter at the National Grassroots Convention in Washington, DC. Tom will be running the monthly Continuing Education Lectures.
Posted: 01.23.12
Haley Gipe Receives AIA Associates Award
Haley Gipe (B.Arch 2007) is one of two recipients of the 2012 AIA Associates Awards.
The AIA Associates Award is the highest award given to individual associate AIA members who best exemplify the highest qualities of leadership and have demonstrated an unparalleled commitment to their component or region's membership, in the community, in professional organizations, and/or in the design and construction industries.
Since her graduation, Haley has been  a strong supporter of her alma mater and in particular as the AIACC IDP State Coordinator, North, Haley has been a leader in promoting among her alma mater the importance for joining the NCARB Intern Development Program.
With a colleague of hers, Tim Alatorre (B.Arch 2006) Haley co-founded sloArch.com; a news and entertainment site dedicated to strengthening the Cal Poly San Luis Obispo Architecture community.Congratulations to Haley on this wonderful recognition.
Posted: 01.13.12
Winter Career Fair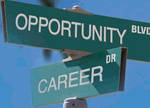 The ARCH Department Invite students to attend the upcoming Cal Poly Career Fair.
When: Wednesday and Thursday, January 18 and 19, 2012
Where: Chumash Auditorium and University Union Room 220
Schedule: Networking: 9:30 a.m. - 1:30 p.m. Interviews: 1:30 p.m. - 4:30 p.m

Posted: 01.07.12
Faculty Member Stacey White Awarded Top 20 Under 40
Stacey White (B.Arch 1999), owner, Mode Associates was selected this month (December 2011) by The Tribune of San Luis Obispo, as one of this year's Top 20 Under 40 award winner. This award honors young professionals from San Luis Obispo County for their contributions in their fields.
"Winners have proven they have the leadership skills, dedication and vision to make a difference in their organizations and respective communities. They also represent a diverse group of occupations and industries, and have been involved in business, law, education and nonprofit organizations. "We were impressed with both the number — and quality — of applicants this year," said Sandra Duerr, executive editor of The Tribune. "Those young professionals have clearly demonstrated dedication, innovation and excellence, enriching our county in the process."
Posted: 12.16.11
Selected Vellum Furniture on Exhibition in Kennedy Library
An exhibition of Polytechnic furniture artists & Vellum winners will be presented in the Robert E. Kennedy Libary, Learning Commons between November 7 - January 6, 2012.
A Hands-On Workshop -Furniture Papercraft, will be offered on Tuesday, November 8 in the Cafe Gallery, Learning Commons of the Kennedy Library.
Posted: 10.27.11
Information Session on Rome Program
Rome Program Coordinator and faculty member Scott Schlimgen, President Academic Initiatives Abroad Inc., (AIA) will be on campus to present the Fall 2012 Rome off-campus program that is open for ARCH, CRP, and LAND Architecture Students. Scott has taught the ARCH students over the past years, and was a colleague of the ARCH Department faculty prior his permanent relocation to Rome to head the AIA.
Event will take place on Thursday, November 3, 2012 between 6-7pm in building 05-Room 313.
Posted: 10.26.11
Vellum 2011
Vellum Design Build and the College of Architecture and Environmental Design (CAED) are pleased to announce the 8th Annual Vellum/CAED Furniture Exhibition. The exhibition of furniture designed and constructed by CAED students will be on display, time and location to be announced shortly.
Gallery exhibition, judging and reception: Friday, November 4, 2011, 5:30-10:00pm
Location: 848 Monterey Street, San Luis Obispo, CA
Posted: 10.18.11
CAED Honored Alum: Kenric Stone
The Architecture Department is pleased to recognize alum Kenric B. Stone (B.Arch 1980) at the 2011 Honored Alum Recipient of the Cal Poly Alumni Association Distinguished Service Award. Ken is an architect and Vice-President and General Manager of the Austin Building and Design, Inc Office in Irvine, CA.
The 2011 Honored Alumni Awards and Dinner Reception will be held Friday, October 14, 2011, 6:00pm at Cal Poly's PAC Pavilion followed at 7:30pm by a Dinner Reception at the Alex & Faye Spanos Theater Patio, Grand Avenue at Perimeter Drive.
For information on the event, please contact the Alumni Relations Office at 805-756-2586.
Posted: 10.05.11
Fall Career Fair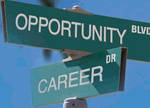 Don't miss this opportunity to meet with over 150 employers seeking applicants from all colleges for Career, Summer, Internship and Co-op jobs!
Ware Malcomb, corporate recruiter of Ware Malcomb, Leading Design for Commercial Real Estate, will be attending the all school Career Fair at Cal Poly SLO on Wednesday October 12.
Network: 9:30 a.m. -1:30 p.m.
Pre-Arranged Interviews: 1:30 p.m. -4:30 p.m.
Event Location: Chumash Auditorium and University Union Room 220
Posted: 10.05.11
Fall Study Abroad Fair: October 6, 2011
Learn about study-abroad opportunities at Cal Poly at the Fall Study Abroad Fair set for 10 a.m. to noon Thursday, Oct. 6. The event will take place in the Business Breezeway (between Bldgs. 2 & 3) because of rain.
The fair will showcase faculty-led quarter-abroad programs, the CSU's International Academic Year-Long Programs, Cal Poly International Exchanges, and other affiliated programs. For more information, visit the Cal Poly International Center website.
Posted: 10.03.11
SLO ARCH Records theStudio 
SLO ARCH is recording theStudio on Wednesday, October 5, 2011, 7pm - 8pm.
"SloArch.com is a news and entertainment site dedicated to strengthening the Cal Poly San Luis Obispo Architecture community. We are just in our infancy, but our goals are to bring assistance, education, and entertainment to the Cal Poly Architecture community though news coverage, media production, and community outreach."
Thank you to both hosts Tim Alatorre and Haley Gipe for their outreach efforts and their vision to include their alma mater in their professional lives. For more information, go to live.sloarch.com 
Posted: 09.22.11
Students Place Third in Center For Urban Farming Competition
Third year architecture student Mason Hayes and student colleague Richman Neuman of Carnegie Mellon, Pittsburgh, placed third in the Sucker Punch Competition with their project titled " Center For Urban Farming Competition. Congratulations to both team members.
Posted: 09.19.11
Mark Lakeman lecture: Friday 9.23.11
The Landscape Architecture Department at Cal Poly is sponsoring a lecture on Friday, September 23, at 5:30 pm in the Berg Gallery by Mark Lakeman and Marisha Auerbach. Mark is the founder of the City Repair Project, among other world changing initiatives. Marisha is a practitioner and lecturer on permaculture and has collaborated with the City Repair Project.
City Repair is an organization composed mostly of volunteers whose mission is to educate and inspire people to "build community by creatively transforming public space into neighborhood gathering places."
The organization is best known for its community interventions, or "intersection repair" happenings, which are events that work to reclaim, for one day, residential street intersections as public plazas and gathering spaces. These efforts were born out of a desire to create stronger community ties in neighborhoods and highlight the lack of public spaces that are available within our physical environment. These events, which started with one intersection in Portland, are now a nationwide and even international phenomenon.
Posted: 09.19.11
2011-12 Lydia Humphrey Memorial Work Study Program
The Lydia Humphrey Memorial Work Study Program and Application for Fall/Winter/Spring Quarters 2011-2012 is now available. Fall/Winter/Spring applications are due to the CAED Front Reception Desk (05-212) by the end of the day Monday, October 3, 2011.
Original signature, hard copy only accepted (unless oversees). All applicants' applications must be submitted to the CAED Receptionist.
Posted: 09.09.11
2011 Central Coast Bioneers Conference
In conjunction with the 2011-12 Hearst Lecture Series guest speaker Jason McLennon on Friday, October 14th, 2011, the Department invites you to visit the 2011 Central Coast Bionners' Conference that will take place in San Luis Obispo on October 14, 15, & 16, 2011.
In addition, Faculty Emeritus Ken Haggard will be signing his new book Passive Solar Architecture: Heating, Cooling, Ventilation, Daylighting and More Using Natural Flows, which he has co-authored with David A. Bainbridge. 
Posted: 09.01.11
Prof. Emeritus Ken Haggard's new publication
Professor emeritus and architect Kenneth Haggard has co-authored with David A. Bainbridge a new publication Passive Solar Architecture: Heating, Cooling, Ventilation, Daylighting and More Using Natural Flows.
Posted: 08.30.11
Parents Weekend 2011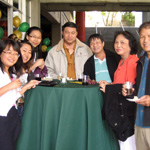 The Architecture Department welcomes all parents of our students to join us on Friday, October 28, 2011 for a reception between 5-7pm in the Berg Gallery (room 05-105).
Students, faculty, and alumni work will be showcased during the event as well as student tours of select design studios, the Media Research Center, and the College's Workshop. Meet and greet with the Department Head, faculty, and students. We look forward meeting you during our event.
To view the schedule of Parents' Weekend events and register by Oct. 16, 2011, go to the Parent Program website. Please register early to ensure accommodation.
Posted: 08.25.11
Renovated plotter room in the MRC
Both the slide collection and the flat files that contained maps have been removed outside of the MRC. The plotter room is now solely dedicated to plotting, and with the addition of a new Canon IPF 815 44" plotter we hope that the CAED students will be better served with their printing requests.
Posted: 08.23.11
Student Zach Bache Nominated to Freedom Task Force
Zach Bache was selected in August to be on this year's Freedom Task Force for AIAS National.
Posted: 08.15.11
Student assistant Job Opportunities at the MRC
If you are interested in working in the MRC as a student assistant, please visit the MRC's web page and scroll to the bottom of the page for additional information.
Posted: 08.15.11
Study 25-35 Hours per Week
The Architecture Department supports the "Study 25-35 Hours per Week" Program. Good study habits are the foundation of a successful career at Cal Poly. 
Posted: 08.15.11
The Department welcomes three new tenure-track colleagues
The Architecture Department is pleased to welcome this Fall 2011 three new tenure-track colleagues, Assistant Professors Jeff Ponitz, Clare Olsen, and Carmen Trudell.
Posted: 08.12.11
NAAB Accreditation recommendation
At the July 2011 meeting of the National Architectural Accrediting Board (NAAB), the board reviewed the Visiting Team Report (VTR) for the California Polytechnic State University, College of Architecture and Environmental Design.
As a result, the professional architecture program -Bachelor of Architecture, was formally granted a six-year term of accreditation. the accreditation term is effective January 1, 2011. The program is scheduled for its next accreditation visit in 2017.
Posted: 08.09.11
New ARCH publication (2011)
Prof. Tom di Santo published Svizzera | Suisse X, a visual compilation of the 2010 summer off-campus program conducted in and around Switzerland. This publication is part of the Architectural Environmental Design Press (AeDPress). 
Posted: 08.09.11
New ARCH publication (2011): Abstract
Compilation of Cal Poly Architecture students thesis topics conducted during the AY 2010-2011. Each student presented their thesis at the Chumash Auditorium, May 28-30, 2011. This publication is part of the Architectural Environmental Design Press (AeDPress). 
Posted: 08.15.11
2011 ACSA winner: Thomas Fagan
Student Thomas Fagan received Honorable Mention for his project "Pulse" in the Open Category of the 11th annual steel design student competition, administered by ACSA and sponsored by the American Institute of Steel Construction (AISC). Student advisor: Prof. Thomas Fowler.
Related Content