2012 Vellum/CAED Furniture Competition & Exhibition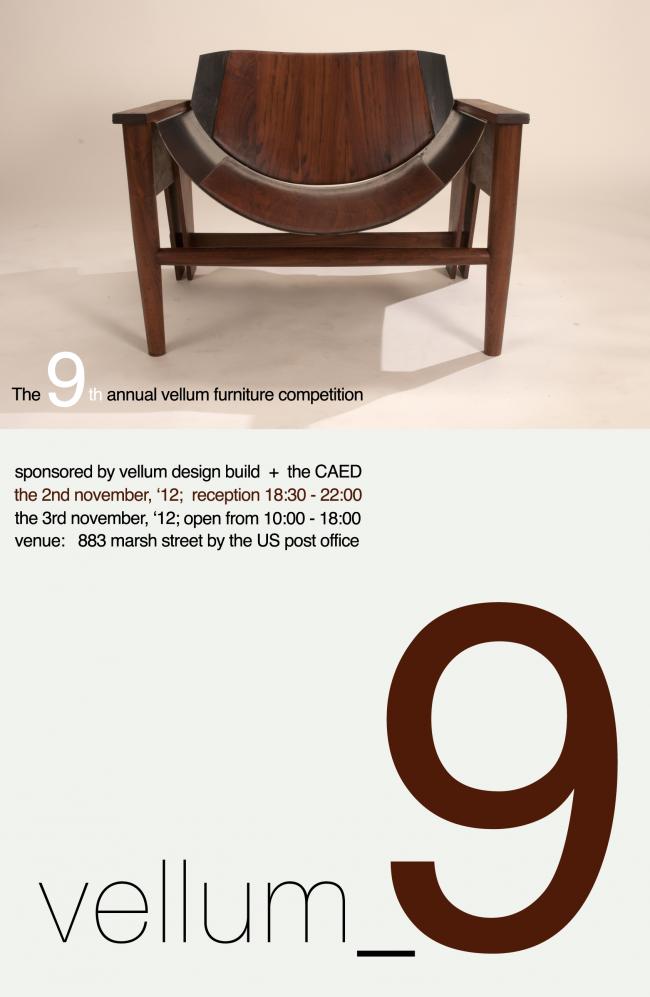 Overview
Vellum Design Build and the College of Architecture and Environmental Design (CAED) are pleased to announce the 9th Annual Vellum/CAED Furniture Exhibition. The exhibition of furniture designed and constructed by CAED students will be on display at 883 Marsh Street (next to Post Office), San Luis Obispo, CA, on November 3th, 2011 from 10am - 6pm.
Gallery exhibition, judging and reception: Friday, November 2, 2012, 5:30 - 10:00pm
Exhibition continues: Saturday, November 3, 2012
About Vellum Design Build
Vellum Design Build is a custom home builder and interior design firm that explores modern living though innovative design. For more information on the design competition, exihibit and silent auction, call Vellum Design Build at (805) 784-0487.
For information on the Vellum/CAED Furniture Design Exhibition, contact Tom di Santo.
Jury Members
We are delighted to draw top names in the furniture design industry for this year's jury.
Allan Wexler, Architect: We regret to inform that, due to Hurricane Sandy in the Atlantic Northeast, Allan Wexler will be unable to give the Hearst Lecture nor be present for the 9th Annual Vellum Jury.  Everyone is well and hunkered down in the post-storm dawn; however, his flights have been canceled and he cannot be in San Luis Obispo in time for the Competition.  We are committed to bringing him back next year for a Hearst Lecture and the 10th Annual Vellum Furniture Competition.
Mark Jensen, Architect: We thank Mark Jensen for agreeing to be the Hearst Lecturer and Principal Vellum Juror on such short notice.
Mark Jensen is an award-winning architect and interior designer based in San Francisco. He works closely with each client to thoroughly understand their needs and to develop solutions that are unique, appropriate, and poetic responses to the constraints and opportunities of the project. In all projects, extreme care is taken to conceptualize comprehensively from the general to the particular so that the end effect conveyed is one of thorough and thoughtful consideration. Numerous design awards and publications have recognized the consistent quality of the firm's work.

His firm, Jensen Architects is interested in a critical approach to design, engaging contemporary culture and construction techniques in search of design solutions that are elegant, cost effective, and environmentally sensitive. They have developed close working relationships with engineers, landscape architects, artists and graphic designers in the conceptualization of their projects. In their intimate involvement with the construction process, they have also developed close contacts with contractors, manufacturers, fabricators, cabinetmakers, and specialized artisans. For more information, visit their website at:
jensen-architects.com.
Jonathan Foote, Architect: Jonathan Foote is an adjunct and visiting professor at Virginia Tech's Washing-Alexandria Architecture Center (WAAC). He received his undergraduate degree in History form Indiana University and his M.Arch from Virginia Tech in 2001, and he joined the faculty at WAAC in the fall of 2004. Jonathan has taught at WAAC for the Architecture Department, Cal Poly, San Luis Obispo, during the AY 2005-06, 2006-07, 2009-10, and 2010-11.
Jonathan teaches the graduate and undergraduate design studio, serves on Masters thesis committees, and directs and maintains the workshop facilities at WAAC. His current Ph.D. research into the Renaissance virtue of Prudence has led to the continued development of the materials processes studio at WAAC, as well as to the undertaking of several outreach design/build projects, including such recent clients as the Bauhaus University Weimar, National Building Museum, and United States Navy. He has lectured and served as a visiting critic both locally and internationally.
Sandy Stannard, Architect and Professor: Sandy Stannard is an Architect and Professor of Architecture at Cal Poly State University where she teaches Fifth Year Architectural Design with a focus on Architecture + Nature.  Her students focus on sustainability, furniture, lighting and with a special emphasis on maintaining a small ecological footprint in all design endeavors.
Bianca Clayton, Designer: Bianca Clayton is a designer in San Luis Obispo, working for garcia architecture + design.  She graduated from Cal Poly University where her Fifth Year Thesis  Design focused on the creation of a beautiful alternative learning retreat and healing center on the coast in Central California (Surf, CA south of Vandenberg Air Force Base).  The program included acupuncture, massage treatments, yoga, and bathing, along with a teahouse and guest rooms.  She was the Grand Prize winner at the 6th Annual Vellum Furniture Competition.
2012 Vellum Sponsors
Titanium Level: $2,000+
Platinum Level: $350+
Gold Level: $250 +
Silver Level: $100+
9th
Annual Vellum/

CAED

Furniture Competition Winners

To view larger images, click on images.
"Milano Prize"
Grace Choy (Jackson Studio)
"ACC: Modern Master Award"
Lawrence Yun (Roma Study Abroad)
RRM: Crade-2-Cradle Award:
Ben Preston/Tyler Bierce (Stannard Studio)
Cradle to Cradle Runner-up:
Arlin Krigel/Kaylyn Berry (di Santo Studio)
Runners Up:
Olivia Calalo (Jackson Studio)
Kory Worl (di Santo Studio)
Juan Chavez (Lange Studio)
Thomas Fagan (Jackson Studio)
Honourable Mention:
Ben Preston (Stannard Studio)
MRC table award (selected by Vickie Aubourg):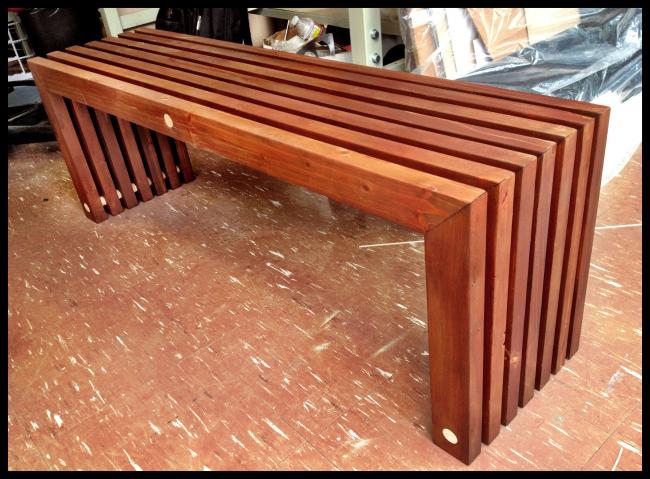 Related Content