Emergency Shelter Exhibition
This demonstration, which took place on December 9, 2009 on Dexter Lawn, showed the latest of four prototypes for a rapidly deployed emergency shelter developed by an interdisciplinary team of architects, structural engineers and material engineers at Cal Poly.
The latest prototype uses plywood as a surrogate for a composite material of kenaf fiber suspended in a matrix or recycled polypropylene. The design was developed in Rhino and prototyped at full-scale using CNC technology. The precision of digital fabrication allowed the team to explore friction-fit connections that reduce the reliance on hardware, lower cost, and allow simple field construction with few tools. The cladding for this prototype is recycled corrugated polypropylene in varying thicknesses and translucencies. All parts are designed to be modular, particularly the floor which is designed to hold all components and serve double duty as the shipping crate for the shelter.
The faculty/student team for this project shared their respective expertise to explore the project on three levels: the level of various raw materials (i.e., what are their performance characteristics in terms of strength, UV resistance, etc?), at the level of a structural form (i.e., can thin shell technology inform the design of a small scale shelter so that it is light yet stiff?), and at the level of a viably habitable, deployable structure (i.e., how can the shelter be made, shipped and constructed simply and efficiently?).
Given the realities of emergency shelters, namely that temporary shelters are often pressed into service as permanent housing in settings where the resources to replace it are limited, the team crafted the following set of goals for the shelter design: efficiency, lightness, packability, constructability, adaptability and re-usability. These goals address both short-term considerations of producing and providing a viable shelter, as well as longer-term considerations of the shelter's re-use in other locations or re-purposing in terms of permanent housing.
The project is led by Professor Robert Arens (Department of Architecture), Associate Professor Ed Saliklis (Department of Architectural Engineering), and Professor Kathy Chen (Department of Materials Engineering). Current student participants are: Ian Carney, Scott Leinweber, and Tam Tran; past participants were: Crystal Baez, Jorien Baza, Christina Blattner, Christine Carpenter, Katie Greenstein, Yang Wang, Orion Watkins, and Ren Zhong.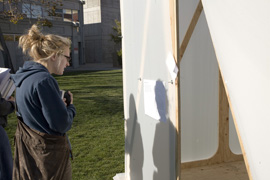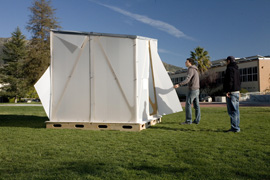 Related Content