Student-in-Need Travel Funds
Thanks to the generosity of an anonymous donor, students who may not otherwise be able to afford class-related field trips or other school-related travel opportunities now have the possibility to apply for funding assistance through the Architecture Department.
In 2018-19, funds may be used to:
aid disadvantaged current 4th year students in overcoming financial barriers associated with off campus programs and class field trips. This category includes support for 4th year students who are not currently enrolled in any 2018-19 off campus program to enable their participation in a campus approved travel opportunity now through Spring 2019 (Summer 2019 applications will be considered after all 2018-19 funding requests have been satisfied);
support individual students or student teams needing financial assistance to participate fully in travel opportunities to competitions, conferences, or project sites; and,
aid disadvantaged students at other year levels in overcoming financial barriers associated with class field trips.
How to Apply
The 2018-19 Student Travel Fund is closed. 
Faculty or trip leaders are required to submit a COMPLETE funding application packet on behalf of their students. The application must include the purpose of the student travel opportunity, the list of students seeking funding, and the student's individual statements of need as outlined below.
Complete applications should be submitted by the faculty trip leader to the department as early as possible but not later than two weeks before departure. All proposals received by the review date will be evaluated at the same time (no longer first come-first served).  Notification of awards will be made within four (4) business days from the review date by the department.
The Next Review in AY 2018-19 is for Winter/Spring 2019 per below:
Complete application packets INCLUDING FACULTY FORMS and STUDENT TRAVEL REQUESTS are DUE from Faculty Trip Leaders by FRIDAY, 2/22/19 at noon.  Reviews will be completed by Monday, 2/25/19 and student notifications sent by Wednesday, 2/27/19.
Note: Students do not need to be on financial aid to apply for this support, however there must be a genuine need for financial assistance.  Funding limited to pre-approved university travel.
Student-in-Need funds will be provided in the form of:
reimbursement for approved travel expenses paid by the student (or faculty member on the student's behalf) after travel is completed;
payment in advance by the Architecture Department for approved travel expenses (paid directly to a vendor on your behalf); or,
as a credit applied to your Student Account for approved travel expenses (only works as travel funding if you have a zero balance on your Cal Poly account).
To apply for a Student-in-Need Travel Award, the instructor (or trip leader) must:
Prepare the funding application packet which includes an itinerary, student travel budget (estimated expenses), a brief description of the destination including lodging and travel arrangements, and the statement from the students nominated for funding. The application must include a faculty travel pre-authorization form (1A) for the travel dates.
To apply for a Student-in-Need Travel Award, the student must also:
Submit a brief statement to the selection committee describing any special and compelling circumstances justifying the funding need and the dollar amount of assistance sought (download the PDF before completing).
Complete application packets and student statements can be dropped off at the Architecture Department AND scanned and emailed to archscholarships@calpoly.edu. Incomplete packets will be returned to the faculty, and will not be reviewed.
Images and quotes from past student travelers
"In Tokyo, our class was able to see many buildings designed by Tadao Ando, Hetzog and de Mueron, Kenzo Tange and other renown architects. In Kyoto, we were able to experience many of the temples and gardens. While these buildings helped inspire my design process, I also found that experiencing other cultures is just as important to maintain a global thinking." Caleb Couch
---
"It was because of your generosity that I was able to travel with my studio and take part in an unforgettable experience. We made our time worth it and were able to grasp a wide spectrum of research and experiences. From visiting the 911 Memorial to the Highline and then being able to visit Harvard, Yale, and MIT we as a studio were able to create many opportunities for the future as well as become a very connected unit; a second family." Seth Good
---
"My whole life I have always wanted to visit Japan to experience the culture and architecture. The experience was absolutely life changing and amazing. With my husband becoming a pilot for the Marine Corps, we now know that we want to try and be stationed in Japan in the future. Being my first time out of the country, I couldn't have asked for a better experience." Makai Johnson
---
"With your assistance, I was able to attend my studio's fieldtrip to Seattle, where I explored an unfamiliar urban landscape and learned more than I thought I would. The chance to travel and absorb different atmospheres is the ultimate gift." Feng Chun Lin
---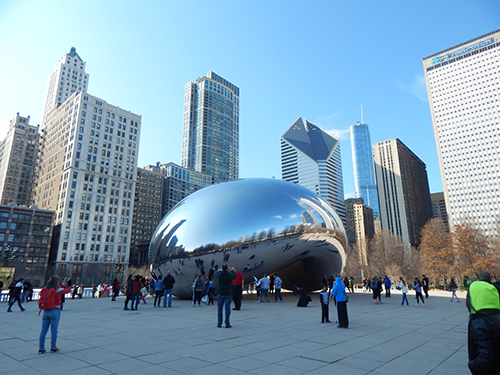 "Without your help I would not be able to go to Chicago and I would miss this incredible opportunity to see the city and its architecture, also visiting all the architecture firms really helped me see what I want to do in the future in my professional career." 
Lucas Melo
---
"Over our ten day trip, we had the opportunity to see and experience so many wonderful buildings and projects that we have only seen in images or heard about in the lecture halls. It was immensely inspiring to actually be able to stand within the realm of Exeter Library, explore MIT's Design Labs, and immerse the spectacular Yale Rare Books Library. These, as well as so many others, were experiences I may never be able to have again. These experiences have already influenced my thesis projects; and furthermore the memories within these places will continue to remind me why I aspire to become a professional architect." Tara Rajan
---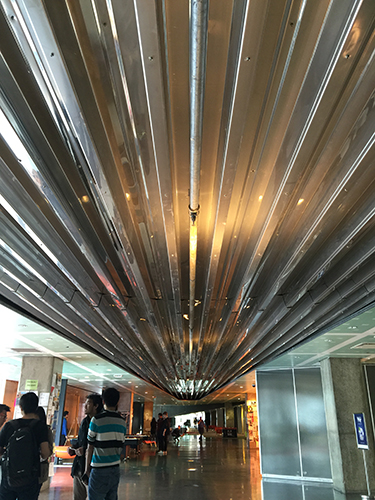 "Without your help, I would not have been able to go to the great city of Chicago! My experience there was something that I will cherish for lifetime. It not only brought me closer to my peers but it gave me a perspective that is that is forever changed and that much more valuable. Chicago does not only have so much rich history to learn from but it also has so many new and inspiring ideas bursting out of every street and corner!" Treya Yano
 
---
"This trip was not only an educational one, but also a great bonding experience as well. I am a third year student who transferred to Cal Poly Fall quarter of 2014. A big part of studio culture is based on relationships which most students have been forming since freshman year, and transfers are often considered "new kids." This trip served as a great bonding experience with my studio mates, as well as my professor. I feel so much closer to everyone, and have formed friendships which will continue to strengthen and enrich my educational career at Cal Poly." Ramon Robles
---
"Being able to travel to Chicago with my class was a fun and insightful trip! Now that I am back at school and studying about the buildings that I was able to experience firsthand, I understand how important of a trip this was to my future education. I was given an opportunity to walk through many well-known firms and meet passionate architects that I now reflect on when I envision my future. Walking through the world's first skyscrapers is truly a moment that and architecture student cannot forget, I thank you again and hope to give back to those in need when I reach my future goal." Vana Kiork
---
"With graduation soon approaching, it really meant a lot to me to get the exposure to both cities and participate in our scheduled firm visits, museums, and architectural site-visiting that has greatly benefited me in the development of my final thesis research and in my employment plans post-graduation as well. Traveling with my studio and professor, Tom Di Santo, has provided me an invaluable insight and understanding of the unique architecture, history, and culture manifested in NYC and Seattle, two cities I admire greatly for their architectural endeavors." Diana Rodriguez
---
"This educational travel experience informed me of what software programs the majority of medium to larger architectural firms require and I was given advice on what we should focus on now during school in order to succeed later during our careers in the real world. I will absolutely take this experience with me for the rest of my life and I cannot thank you enough for affording me this wonderful experience." Megan Hanck
---
"Because of this trip, my understanding of the American Southeast has become stronger, and I gained a lot of exposure to different vernacular ways of making architecture. Travel is in inherently educational experience, and I am so glad that I was able to travel with my peers and professor this year." Nick Schwaller
Updated 04.15.19
Related Content