Prof. Doug Jackson's Thesis Students' Exhibition
This studio show featured nineteen individual thesis projects that all in some way challenge the architectural status quo in order to provide a new vision of architecture.
The work exhibited was characterized by a critique of the contemporary disciplinary emphases on form and fixity, and instead offered unique alternatives that focused on such issues as change over time, multiple embodiments, individual authorship of experience, and architecture's ability to promote social and environmental engagement.
For maximum immersion in the content of the work each thesis project was displayed within its own individual immersive drum.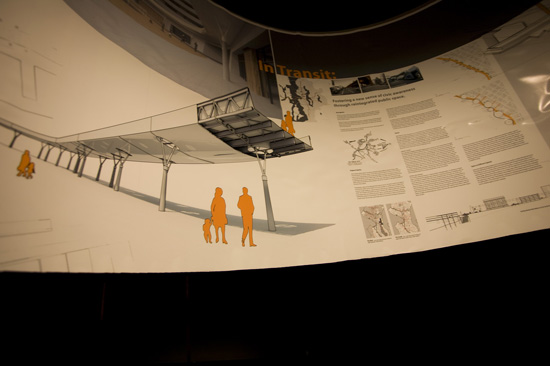 Each drum was suspended from an overhead pulley system and could be raised or lowered by manipulating a counterweight.
The bottom of each counterweight held a light source, so when the counterweight was raised it both lowered the drum around the viewer and illuminated the work contained within.
When the counterweights were pulled downward the drums were lifted, allowing visitors to enter and exit.
Related Content