"Best of Show" Third Year Review: Friday, March 12, 2010
Best of Show: already in its 4th iteration
This annual event has been successful in allowing third year students to obtain a holistic view about the work that is happening across the entire third year in a formal jury setting with outside reviewers. It provides the opportunity for students to articulate their ideas, respond to criticism, and develop leadership qualities during the oral and visual presentation of their work. Each third year faculty select three students of their desgn studio who will present their work during the Best of Show Review.
Once again, we are very fortunate to have a stellar group of reviewers participate on this year's review:
Dr. Alfred Jacoby, Director of the Dessau Bauhaus
Prof Wendy Ornelas, FAIA, (B.Arch Cal Poly 1980), Associate Dean at Kansas State University, and President of the NAAB
Prof. Robert Condia, AIA, (B.Arch Cal Poly 1980), Professor at Kansas State University;
Designer Chris Talbott (B.Arch Cal Poly 2006).
Best of Show, Wendy Ornelas, Rachel Janzen, Robert Condia, Chris Talbott, and Alfred Jacoby
2nd prize, Alfred Jacoby, Wendy Ornelas, Robert Condia, Joe Varholick, and Chris Talbott
Honorable Mention, Alfred Jacoby, Robert Condia, Dion Dekker, Wendy Ornelas, and Chris Talbott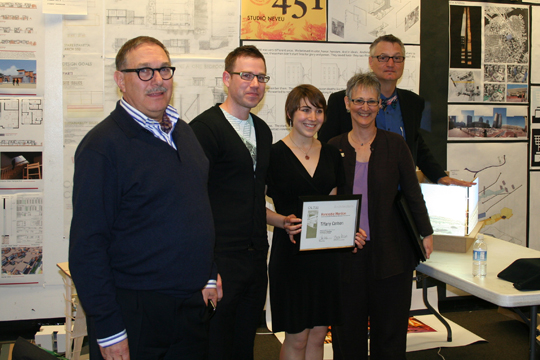 Honorable Mention, Alfred Jacoby, Chris Talbott, Tiffany Carlton, Wendy Ornelas, and Robert Condia
Honorable Mention, Robert Condia, Wendy Ornelas, Brian Ng, Alfred Jacoby, and Chris Talbott
Models of Prof. John Lange's studio
Models of Prof. John Lange's studio
Alex Vincent and Brian Ng
Prof. Margarida Yin
Models
Students presenting
Prof. Marc Neveu
Prof. Marc Neveu
Students presenting
Ben Hait-Campbell and Nick Pappas
Student work
Prof. Curt Illingworth
Prof. Curt Illingworth
Attentive students
Prof. Wendy Ornelas reviewing Rachel Janzen's work
Prof. Robert Condia reviewing NIck Pappas's work
Prof. Robert Condia reviewing NIck Pappas's work
Attentive students
Morning audience
Prof. Thomas Fowler with a group of students
Students' portfolios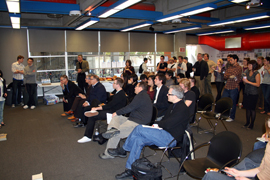 Group of reviewers
Students' work
Prof. Mark Cabrinha presenting his section
Student presenting her work
Reviewers
Prof. Robert Arens among students
Student presenting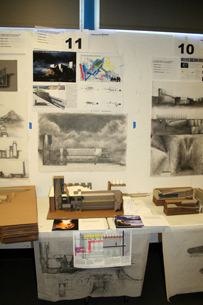 Joe Vaholick's work
Related Content